Steve Hall did not set out to build cat trees and a cat tree business. He sort of stumbled into it. But like the cats who so love his trees, he certainly landed on his feet!
Steve was just another white collar workforce associate in Atlanta in 2000. But then a friend of his bought a cat tree at a cat show. That's when everything changed.
"A friend of mine had purchased this tall cat tree at a cat show. When she told me about it, she couldn't wait for me to see it. But when I got to her house I discovered that she had hidden it away in a spare bedroom because she thought that it was just too ugly to go in her living room. I thought that was sad, as I think that the whole point of having a cat tree is to be able to watch your cats play on it and enjoy it."
The next day, Steve was on a mission. He knew where some hardwood trees had been bulldozed down at a construction site, so he went and cut some of the best wood he could find. Then he found some really plush carpet and off to the basement he went. A while later, he had what would be his first prototype of the rustic cat tree.
After several attempts, Steve had a beautiful cat tree to offer his friend. She not only loved it, she put it in her living room and then told all of her friends about it. When they saw it, they had to have one too. Before long, Steve realized that the demand for well-crafted rustic cat furniture was so high, he could leave his white collar job and set up his workshop in his basement. That attention to detail coupled with creating a beautifully designed artistic and quality product has paid off as his clients' cats enjoy these trees all over the USA and Internationally.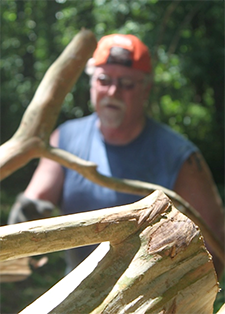 "The demand has been incredible. I never would have imagined building cat trees for a living!"
It has been many years since that first prototype created in 2002 and Furwood Forest is still going strong. Steve attributes this success to the artistic design, the beauty of the natural tree branches and the quality carpets used for each and every cat tree he creates.